L'INCREÏBLE HISTÒRIA DE LA LLAVOR DE L'AMOR
L'INCREÏBLE HISTÒRIA DE LA LLAVOR DE L'AMOR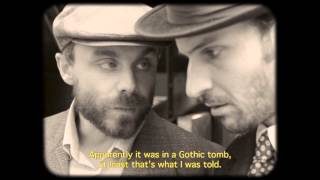 Author(s): Xavier and Museu Frederic Marès
Production year: 2012
Exective producer: Xavier
Director: Xavier
Cameraman/woman: Javier Ruiz Gomez/Pierre-Arnaud Briot
Editor: Jacqueline Mariani
Script: Xavier
Musical composer: Sir Blue Fog/Avril Wipago/Jean-Marie Guezala/I el cor masculí vasc Anaiki
L'INCREÏBLE HISTÒRIA DE LA LLAVOR DE L'AMOR
The film shows a magical realm where the Frederic Mares Museum's works of art, objectes and rooms merge with the past, present and fiction in a story of love throughout the times, with the aim of encouraging visitors to discover what objects can hide.
In Barcelona, capital of the Catalonia, inside a peaceful museum from Barri Gòtic, a seed seems to have germinate into a polychromic wooden sculpture. Lianne Beaulieu, a world known specialist from Paris is called for help.
As soon as she arrived, a serie of disturbing events, mixing the present and the past will succeed, bringing to light a curious link betwenn Lianne and Arnau, the Catalan restorer, under the strance glance of mysterious Destí.
L'increïble història de la llavor de l'amor
D'après un scénario original de XAVIER:
ARNAU: Numa Vilató
LIANNE BEAULIEU: Macha Dussart
DESTI: Avril Bénard
MARIA FONTANEDA: Carmen Alles
LE COLLECTIONNEUR: Guillaume Compiano
LE PEINTRE: Xavier
MARTIN MARRONNIER: Jeff Dias
PAUL BOULOGNE: Emmanuel Bréon
1ÈRE ASSISTANTE: Pauline Carrillo
2ÈME ASSISTANTE: Candice Hénin
3 ÈME ASSISTANTE: Xavière Rigole
JEANNE CRAMPON: Émeline Audren
PAULINE: Jill GagéVIERGE ROMANE: Kim Lilly Wagner
VIERGE GOTHIQUE: Sarah Ramaully
GRAINE D'AMOUR: Anouk
Un Film de XAVIER
Chef Opérateur: Javier Ruiz Gomez
Assistant personnel réalisateur: Guillaume Compiano
Première assistante réalisateur: Jill Gagé
Premier assistant caméra: Pierre-Arnaud Briot
Ingénieur du son: Romain Magloire
Maquillage / Coiffure: Aurore Mougel
Photographe de plateau: Hydris Mokdahi
Doublure cavalière: Adela Vilató
Coaching acteurs: Guillaume Compiano
Coaching catalan: Melani Subirat Legac/Albert Escrihuela Ibáñez
Création costumes: Julia Tazé et sa marque IRLYWELL
Location costumes: Sommier Costumes Locations Paris Menkes Barcelone
Décors: Xavier
Assistants décors: Guillaume Compiano/Omar Aberqui
Superviseur FX Musée Frederic Marès: Jordi Delgado Maestre
Montage: Jacqueline Mariani
Étalonnage: Pierrick Grosbois
Assistant étalonnage: Guillaume Bossu
Coordinatrice de post-production: Louise Bosman
Effets Spéciaux: Bertrand de Saint Seine/Guillaume Bossu
Incruste Fond Vert: Studio Mirages Productions à Paris
Sous-Titres: Jérôme Bouvier
Montage Son: Romain Magloire
Post-Synchronisations: Laurent Chassaigne
Bruitage: Gadou Naudin
Mixage: Laurent Chassaigne
Assistant mixage:Benjamin Rollo/Julien Perrin
Musique originale:Sir Blue Fog/Avril Wipago/Jean-Marie Guezala/le choeur d'hommes basque Anaiki
Ingénieur son musique: Yann Albertella ( Studio Frizzulair )
Making-of : Pierre-Arnaud Briot