EU Heritage - MOOC and Social Platform for Cultural Heritage professionals and students
EU Heritage - MOOC and Social Platform for Cultural Heritage professionals and students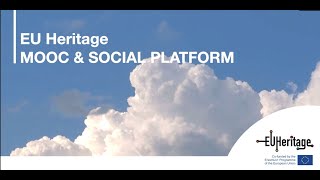 The EU Heritage MOOC and Social platform have been released on June 21st by the EU Heritage partners. The technical implementation has been realized by the Hellenic Open University while course content has been developed by all project partners.
EU Heritage - MOOC and Social Platform for Cultural Heritage professionals and students
EU Heritage - Skills for promotion, valorisation, exploitation, mediation and interpretation of European Cultural Heritage Funded by Erasmus + Sector Skills Alliance program, EU Heritage project has worked to create and deliver a course focused on the skills most perceived as needed by cultural heritage professionals and students in Europe. From entrepreneurial to digital skills, from connection with tourism and creative sectors to innovative ways to engage visitors in cultural heritage sites, the course is offering a complete and 360° experience thanks to a MOOC and a social platform developed to allow interested users to learn, share, cooperate. With 5 modules the MOOC has been launched on June 21 with already 1100 registered learners from all over the world. The social platform is currently becoming a space for Cultural Heritage projects, new topics to be explored by organizations and professionals, European and local initiatives focused on the promotion, valorization, exploitation of Cultural Heritage.
EU Heritage is a transnational project developed under Erasmus + EU program (Sector Skills Alliance for Design and Delivery of VET) coordinated by Materahub and addressing: professionals working in the field of heritage promotion, valorisation, exploitation, mediation and interpretation. EU Heritage is a wide transnational initiative that brings together 9 partners from 7 European countries (Italy, Spain, Greece, Germany, Malta, Romania, Belgium) with different specialisations. Four VET/educational providers: Fondazione Fitzcarraldo (Italy), University of Malta - Institute for Tourism, Travel & Culture (Malta), Hellenic Open University (Greece), National Institute for Cultural Research and Training - NIRCT (Romania). Two industry/sector representatives in the field of cultural heritage, culture, tourism, creative industries: Materahub (Italy) and Asociation Plataforma La Cultora (Spain). One research centre and sector representative in the field of Digital&ICTs for cultural heritage: M2C Institut fur angewandte Medienforschung GmbH (Germany). One European network and sector representative in the field of culture: European Network on Cultural Management and Policy - ENCATC (Belgium); One Chamber of Commerce: Camara de Comercio e Industria Italiana para Espana - CCIS (Spain). EU Heritage project will benefit three main target groups. - Heritage and cultural tourism professionals Thanks to the project, they will be able to critically reflect on their competencies and skills, update their skills and develop new ones, in particular digital and soft skills. Through a multidisciplinary approach and working with other organisations from different sectors and countries, heritage and cultural tourism professionals will gain new opportunities for cooperation, fund-raising and will develop new synergies and projects at national, regional and EU level. - SMEs, startups and entrepreneurs Bringing fresh insights from the market in the field of innovation for cultural heritage and cultural tourism and joining challenges/hackathons, they will have the opportunity to present and test their products and services within a network of other actors coming from both national and EU level. - Artists, creative and other professionals from the Cultural and Creative Industries They will bring their point of view for the innovation of the methods for promoting, exploit, interpret and reinterpret cultural heritage through contemporary creativity, as well as they will contribute to get new innovative solutions to the problems affecting cultural heritage organisations. The key outputs of the project are the MOOC and the Social platform for European Cultural Heritage professionals and students. The MOOC has been built after a research and analysis phase that involved more than 300 professionals of the sector from all over Europe to explore their training needs and perceived skills gaps. The result is a 5 module online training covering topics like - cultural heritage for local development (the role of cultural heritage in the economic, cultural and social development of European cities and regions) - innovative visitors experiences in cultural heritage sites (focus on experiential tourism and how to design innovative offers for tourists and visitors) - digital strategies and tools for cultural heritage (focus on digital competences) - entrepreneurial approach to cultural heritage (focus on entrepreneurial competences) - sustainability, impact measurement and project evaluation (focus on SDGs and the role of cultural heritage in generating impact on local level and how to measure such impact) The MOOC will be open from June to September 2021 for a first session under the umbrella of the project, the support of tutors from the partnership, an evaluation for the participants, then it will be fully accessible without any restrictions for all the interested users. The first phase saw 1100 users registered not only from Europe but from all over the world. The MOOC is accessible from here https://mooc.cti.gr/euheritage.html Together with the MOOC, the project has developed a social platform that is offering to the users of the course and to other EU professionals or students interested in cultural heritage a space to - share their work - discuss about key topics of the sector - offer opportunities for collaboration in local, national and European initiatives - promote events and other training opportunities for the field - connect different stakeholder from policy makers to practitioners The platform is accessible from here https://euheritage-platform.eu/