Gold Over Aquamarine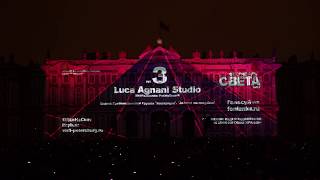 Luca Agnani Studio is made by a team of professionals who animate architectures with projected lights, using 3D Video Mapping techniques. The Studio, started in 2010 by Luca Agnani; first affirms its works throughout Italy, then internationally when in 2013 is selected by the Circe of Light Festival in Moscow (one of the most important festivals of video mapping in the world) where they scored a third place. Nowadays, Luca Agnani Studio can count hundreds of performances; among the most relevant creations, the studio worked for the Ducal Palace of Genoa, Catania Cathedral, Trieste's Piazza Unità d'Italia, the Viterbo Cathedral, Palazzo dei Priori of Pesaro, the Amalfi Cathedral, The Rocca Roveresca of Senigallia, the Arlecchino Palace in Pescara, the Basilica of San Bernardino in L'Aquilia and the San Michele Sanctuary.
Gold Over Aquamarine
Video mapping 3d on the winter palace for the 500th anniversary of the Russian revolution
"The place we live in has enough light" sings Boris Grebenshikov. This is the main idea and the starting point for the visual for the lyrical track: light, its abundance, different perceptions and refractions. The rich architecture of the Winter palace baroque frontage will become a platform for experiments with light, in all of its forms. The light will become a painter and will transform beyond recognition the famous façade. Besides that it will invite the audience into a virtual walk through the suburbs of Saint-Petersburg: Peterhof and its fountains, Tzarskoe village with its gorgeous Ekaterininsky Palace, the architectural masterpiece of Smolny Cathedral.