Everything Is Music - a brand new location-based digital museum for mobile
Everything Is Music - a brand new location-based digital museum for mobile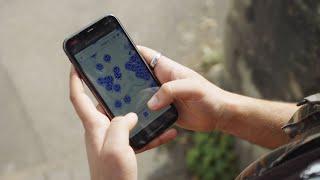 Overview of the team: Everything Is Music is a collaboration between international music publication Crack Magazine and geo-location technology specialist Landmrk. Since forming in 2016 the Landmrk platform has powered a wide range of compelling mobile experiences for world renowned brands and entertainment clients. The robust, scalable nature of the platform has allowed these clients to promote their work to vast audiences, engaging people in their locality, whether that be in Bristol or Bogota. Landmrk's work in this area has seen them create exciting location-based experiences for over 4 million people in over 100 countries worldwide for brands including Land Rover, Unilever and Viacom and personalities such as Ariana Grande, Anthony Joshua and Shakira. Crack Magazine is Europe's largest free hard-copy culture publication and has a loyal and committed worldwide digital audience. It has a combined monthly reach of over 20 million people per month (via editorial, online, print, social, and display). It's cover stars over the last 11 years have featured Glastonbury headliners like Radiohead and Gorillaz, Mercury Prize winners like Dave, and revered pioneers like Bjork and Massive Attack. Crack Magazine Research/Curation production: We spent 18 months speaking to musicians, label owners, researchers, shop owners, and people from the community. This was done to try and understand what locations in the cities meant the most to them and why they had cultural significance. This was also done to decipher how best to represent these stories with authenticity. We worked with five researchers from different communities, these included the Afro-Caribbean community in St Pauls in Bristol and the LGBTQI+ community in Bristol and Bath. We also consulted with up and coming artists to make sure we presented the full spectrum of music on offer in these cities today. We also lent on Crack Magazine's large and extensive pool of contributors to leave no stone unturned in our pursuit of accurate and honest diversity and representation when documenting the musical history of Bristol & Bath. This resulted in 250 different pins across both cities. Landmark Technical R&D Development: From the project's beginning, the full Landmrk team met regularly to plan the full technical scope of the Everything Is Music platform. A wide ride of creative ideas that were both attainable and aspirational were detailed and discussed at this stage with certain essential ones prioritised and other more wishful ideas shelved or paused for later in the project. Further meetings between the project team meant the agreed development ideas were turned into a feasible roadmap that was achieved by both the project team and other hired technical partners in order to deliver the agreed features. The core map based offering was available through Landmrk's existing feature-set. New user experiences were brought in to complement and embellish on the existing framework. Joint production(Crack & Landmark) At the start of 2021 we went through an extensive user testing period where we invited a diverse audience to test the experiences/routes and content we were proposing to feature on the platform The rollout of the production and the subsequent beta-testing was done together.
Everything Is Music - a brand new location-based digital museum for mobile
The Everything Is Music platform maps out a city's musical history through a musical treasure hunt which is exclusively available on web-browser. No application download is required and the whole thing is very easy to access. Our prototype was deployed in Bristol and Bath in May 2021 and has been extremely well received with great numbers of people engaging. Over 8,000 users have accessed the platform since our launch. Our mission was to provide a resource for amazing musical discovery, that also allowed opportunity for artist's work to be supported. With this in mind, we have covered a huge range of musical genres throughout seven decades of musical history. In order to do this, we have worked with local researchers from a diverse range of communities to authentically tell these stories. Everything Is Music combines this authentic storytelling with cutting-edge geo-technology using innovative techniques to enhance the stories on the platform. Whether it's audio, video, 2D hologram or Augmented Reality, we have pushed the boundaries where possible. Everything Is Music is a new way for the public to find musical stories, discover unexplored places, support artists and support the local ecosystem. Our ambition is for the platform to continue to live in these cities forever and become an evolving resource for geo-tagged cultural locations with new performances, rewards and content placed on a weekly basis.
Everything Is Music is a completely free to use experience for the end user. Accessibility and engagement is an absolutely key part of the project plan. With this in mind, the experience has been delivered in full across the mobile web - meaning no app download is needed as it would take up a huge amount of phone space and it means it's compatible with a wide range of phone handsets and operating systems. Everything is Music is a celebration of the people and places that form these west country cities' musical heritage. The project invites artists, prominent characters, labels, clubs, venues, record stores and festivals that form the fabric of Bristol and Bath's musical landscape – past and present – to explain why particular locations are important to them. These stories are then told through photographs, video, audio, podcasts, music and experiences, at location-based pins in the two cities. Music through the ages is celebrated in full across 250+ locations. The platform offers everything from stories about iconic St Pauls' sound systems, to The Wurzels' connection to an iconic Nailsea pub. Music lovers will hear Portishead talking from a Bristol studio about recording their debut album, the story of Bath's lost iconic rock venue The Pavilion, and an exploration through Bristol's thriving electronic scene dominated by up-and-coming women. Though this is just a taster of the huge number of stories on offer. A user that visits https://everythingismusic.io instantly lands onto the Everything Is Music platform, they are introduced to the project and given an overview of what they can expect. Users are given an option to login via social media, which is not essential, but offers extended capabilities from the platform (collecting music and unlocking some additional advanced features). Signing in also allows a user to save select media on the platform for listening at a later stage in our audio wallet. This is also a feature developed throughout the R&D. Users land onto a branded map that contains over 250 map markers or pins as we can them. Each of these pins relates to a story based around the musical heritage of the cities of Bristol and Bath. As a user physically arrives at that location they can unlock and enjoy the stories about the music artists, scenes, genres, clubs and festivals that all speak into this exciting cultural mix within the cities. Each story at a pin is brought to life through a range of mixed media; written content and stories, archive photography, unheard and exclusive musical recordings, specially created podcasts all play a part in the experience. The technical R&D process that the project team went through also gifted the project with a range of immersive storytelling tools including: 2D Holograms - green screen footage of music artists and cultural figures from the cities turned into 2D holographic content unlocked using augmented reality 3D photogrammetry scans - a range of dub/reggae sound systems that are available to unlock as augmented reality that have been woven together from hundreds of HD photographs An Audio Wallet that allows users to collect the music and audio they listen to as they move around the city Archive Imagery AR - a series of archive posters from key events, gigs and festivals that have been turned into immersive content pieces unlocked using augmented reality in the locations that they took place Explore Routes - a series of stories and cultural narratives that unfold within the cities that highlighted on the map for users to explore From punk icons IDLES and Rita Lynch to Sarah Records and Tears For Fears, via venues like The Granary, Lakota, Moles and Thekla, participants will be drawn into the cultural geography of Bristol and Bath. The platform allows everyone the opportunity to learn about the importance of these specially chosen locations, discover new music and explore unseen parts of both cities. It will also provide numerous opportunities to support the ecosystem that makes up Bristol and Bath's musical heritage. With local independent shops and businesses enduring such hardship over the past year, the platform hopes to drive much-needed custom to record shops, music venues, shops and public spaces. Equally, participants are encouraged to buy music by the artists they discover through the platform through supporting links. As many of the pins on the platform have been chosen by the artists themselves, Everything Is Music provides a personal window into the worlds occupied by your favourite musicians. Combining culture, geography and musical history, the fabric of Bristol and Bath is displayed in a unique, immersive and wonderful way. Some of the featured content includes: a series of specially created tours and pins: Bristol's most famous gig obsessive, Big Jeffrey Johns, will talk them through his top four Bristol gigs of all time as a 2D hologram Bristol drum & bass original DJ Krust will guide participants around several of his most-loved Stokes Croft, St Pauls and Montpelier hotspots as a 2D hologram A tour through Bristol's once-storied LGBT venues An exploration of women in electronic music A tour of four prominent St Paul's sound systems as they've never been experienced before DJ Pinch guiding you through a series of Bristol dubstep hotspots as an audio tour Other locations include: A spoken-word response to a year since the fall of the Edward Colston statue, by Bristol-based poets Solomon O.B and Wish Master – both presented as a 2D hologram Those who ran Ashton Court Festival reflect on the event's life and story Bristol innovators Portishead discuss their seminal debut, Dummy, in the studio where they recorded it. As the full edition of the tour is available for free, optional financial contributions from participants will ensure this cultural resource can remain permanently in the city and be experienced by future generations looking to discover Bristol and Bath's musical lineage. Making sure everyone can continue to enjoy this resource is vital to the long-term success of the project. While the team behind Everything is Music is happy to say they have made a dent in the historical music map of Bristol and Bath, they welcome suggestions for pins that aren't on the map. They can head to the 'Submit a Story' button on the platform to suggest ideas to help expand the Everything is Music resource and the scope of the map's size and content. Moving forward, future technical improvements are earmarked for the platform in order to enhance and improve the user's experience. These include: 1. Hotspot icons changing The current Everything is Music platform features different coloured hotspot icons. A user that arrives at the hotspot location can unlock the contents, story or experience. The development of this feature would allow users to track hotspots they have visited and those they haven't. After a user has been to a hotspot and unlocked it, the icon for that particular hotspot would change colour or be 'greyed out'. This would allow users to visit/collect each hotspot and 'complete' the experience. 2. Progress tracking We want to allow users to track their progress in relation to others on the platform. Users would earn points based on their interactions. Users are rewarded points for actions including: Number of hotspots they have visited Amount of pieces of audio they have listened to Visiting hotspots that are harder to reach Frequency of visits to hotspots 3. Leaderboard The Leaderboard functionality will allow users to see how active they are compared to other users based on the points system discussed in the progress tracking section (above). 4. User profiles Another option is we could extend the R&D focus to user profiles. Aspirations here would be pretty simple – allow users to create a username and add/amend a profile image. 5. Achievements / Trophies An achievement/trophy based rewards system would be implemented. Badges are gifted to users that reach different levels of engagement. As we continue this work we want Everything Is Music to become the international benchmark for geo-tagged discovery, uniting city lovers and cultural explorers together in an active and educational way that provides value for everyone within the ecosystem.